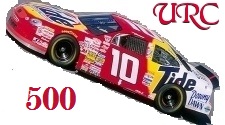 ---
URC 500
Series Standings
Week 14 June 1st & 2nd
Position
Owner
Cars
Driver
Week
Total Points
Behind
Wins
Top 5
1
Jeffjr
comesatime & crescentmoon

ASIAN ADDY

67
534
-
5
9
2
Punter
thebigo & thebigo2

CALIFORNIA MAGPIES

45
527
-7
2
12
3
Packermac
western & 10000

STORM OF INDY

24
505
-29
3
8
4
Metallinut
outinfront & urccoolmore

ANY GIVEN BARGAIN

68
426
-108
3
9
5
Vett
goodfellas & qwikvettbps
282
-252
5
6
Liddleski
babyt14 & liddleski
170
-364
1
5
7
Pboy
Kingscourt10 and kingscourt21
156
-378
1
3
8
Kimugle
kimugle & alabasta
15
-519
1
9
Kentuckiana
kentuckiana & Bluegrassstate
0
-534
The Driver is linked to the horse
Announcing the First ANNUAL URC 500!!!


This is a contest that is modeled after auto racing with the objective of being the first to cross the finish line with 500 points or more!!!

Each URC Resident can nominate TWO of their URC stables to be their "Car" in this race. Each week, you can nominate only one of your horses to be your designated vehicle for the week. To be eligible, the horse must be racing in a field of 6 or more (Saturday & Sunday races only). Nominations must be made before the game post time of such races.

Scoring is based on the finish of your horse as follows:

1st 50 pts
2nd 40 pts
3rd 30 pts
4th 20 pts
5th 10 pts.

In NASCAR racing, bonus points are given to racers that lead for a lap. This contest also has bonus points!!!!! There are two ways to get a bonus.

First, if you finish in the top 5, you will get an additional point for every horse yours beats. Win a race with 14 entries; you will get 13 additional points. Finish fifth in a six horse field, you will get one additional point. Thus, the more horses in the field, the bigger the bonus potential!!!!

Second, if your runner goes off at odds of 10-1 or higher and wins the race, you will earn extra points equivalent to its odds. The change will be ignored, thus if your horse is at 13.80-1, you will earn 13 additional points.

NASCAR racing also has its negatives. Cars will have tires that blow out, engines that explode, accidents as well as penalties to drivers for driving too fast in the pits. This contest will also have a penalty associated with it. Should your horse finish in last place in a race, it will incur a penalty. The penalty will equal the number of lengths the horse loses to the winner by with a minimum of 10 points and a maximum of 25 points. Fractional lengths will be ignored, thus if your horse finishes last by 12 1/2 lengths, you will be penalized 12 points.

The game ends when an individual's barn is the first to pass the finish line with 500 or more points. If two or more pass with 500 points, the one with the higher point total will be the winner.

1st place 1000 credits + Prize Horse
2nd place 750 credits
3rd place 500 credits

In case of a tie for any of the positions, a one-week tie breaking race will be held for those that are tied. The individual earning the most points at the end of the tie breaker will be the winner. If still tied, another run off race will be in order.


PIT STOPS

Each player has the option of making a "PIT STOP" each week. Pit Stops can be beneficial to racers if done correctly (new tires) or punishing (dropping lug nuts). If a player opts to pit, they can pick up an additional 10 points by picking the exact finish their car will finish. Get the Pit Stop wrong, it will cost you 2 points.

This is an option and players are not obligated to make a PIT STOP. If you opt to take a PIT STOP, it must be designated when the horse is entered along with the expected finish.


START YOUR ENGINES!!!

March 8th will be the start of this year's competition.

Remember, up to TWO URC stables are allowed per player and stable nominations are now open.
Metallinut
Copyright © 2019
(Contest format devised by Roxynken @ EWC)
All Rights Reserved.